Pub Solutions References, Yorkshire, UK
Pub Solutions have recently worked with a number of administrators and banks on projects relating to failed pub companies or companies in distress.
Case Study 1
KPMG LLP & Yorkshire Bank
This project commenced in September 2009 when a Leeds based Pub Company containing 26 community local pubs in West Yorkshire, South Yorkshire & Lancashire was placed into administration.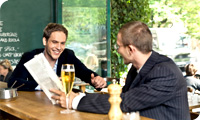 Pub Solutions have been providing KPMG LLP and Yorkshire Bank with an interim management strategy to deal with the estate of 26 tenanted pubs. Whilst keeping all units open and trading, Pub Solutions have maximised the rental potential of the estate whilst continuing to assist the tenants in this difficult trading period.
Pub Solutions have also been providing an umbrella service to KPMG LLP to ensure that all legislative requirements in the licensed trade within the 26 pubs are being met. This service encompasses holding all the Premise Licences in the estate and dealing with any issues relating to DPS variations, licensing reviews and any other matters pertinent to Health & Safety at Work, Risk Assessments, Emergency Evacuation Plans etc.
In addition to this Pub Solutions are managing and effectively policing the different tenancy and lease agreements that are in place within the estate.
We have been very happy with how Pub Solutions have tackled this project. Taking on 26 community local pubs at the bottom end of the market was always going to be a challenge. Working closely with the existing tenants to the business Pub Solutions have been able to ensure that all the assets remain open and have proven to be an effective intermediary in the administration process. Their level of experience in this sector has enabled them to deal with this project in an efficient and professional manner. To date we're very happy with the work and advice that Pub Solutions have given on this project.

Howard Smith – Director KPMG LLP
Individual Pub Services
Pub Solutions specialise in giving individual pub owners or leaseholders advice in how to turn their trade around...

Pub Administration and Banks
Pub Solutions specialise in giving professional & tailored interim management services to failing pub companies...
Pub Training Packages
Pub Solutions specialise in training individuals who wish to take their first steps into the licensed trade...